I don't think Rumple kills random people. I'm not quite sure about his reasoning behind the Fairy Godmother,but I think he killed Gaston because he liked Belle or atleast was lonely without someone for company and Gaston was threatening to take Belle away from him. For the soldiers, I think he killed them to protect his son as well as get revenge for the way they treated him. For the Queen, she seems to kill people that haven't done anything to hurt her or aren't any threat to her like her father,Graham(well I guess he kind of is since he remembers the curse),etc. Also, the Queen kills people without having any kind of curse on her. Rumple only started killing people after he was tricked into having the dark one's curse. Rumple seems to be capable of showing sympathy and love towards others though as he did towards his son and towards Belle. The only person who Regina/the Queen seems to genuinely care about it(and even then I'm not sure if she really does or is just pretending) is Henry. So, I would personally say that the Queen/ Regina is more evil than Rumple/Mr. Gold.
__________________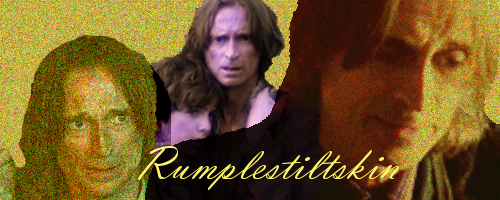 Lovely avatar by Once Upon A Whatever. Thanks.
Lovely wolf banner made for me by Pandora's Imp. Thanks.